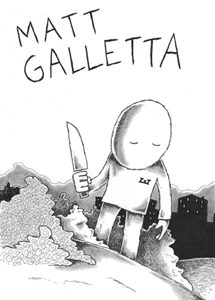 The Stuff Dreams Are Made Of
Fiction chapbook by Matt Galletta
12 pages
Tree Killer Ink, 2014
ISSN: 1927-8179
 "The Stuff Dreams Are Made Of" is a kinda weird, creepy short story involving car accidents, transcription services, and the Maltese Falcon.
 It was #8 in the first Punk Chapbook Subscription series released by Tree Killer Ink/Epic Rites Press. Each title in the series was a 12-page, black-and-white, staple-bound, old-fashioned chapbook. "No bells and fucking whistles," as editor Wolfgang Carstens put it. Other folks in the series included Lawrence Gladeview, RD Armstrong, and Rob Plath, and all the books featured awesome cover art by Janne Karlsson.