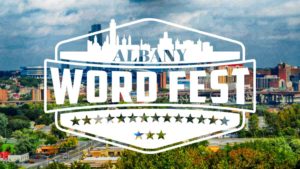 It's April, so that means it's Albany Word Fest time again, the week-long series of poetry and spoken word events. I'm doing my poetry shtick this Friday evening at the Readings Against the End of the World, a 24-hour-long event that benefits the South End Children's Cafe in Albany. I'm scheduled to read at 8:40 p.m. Here are the details:
Readings Against the End of the World
Friday, April 20, 2018
7 p.m. start time (I'm on at 8:40 p.m.)
Husted Hall Cafe, UAlbany Downtown Campus
135 Western Ave.
Albany, NY 12203
This is always a good time. I'll be reading a whole bunch of stuff, including some new ones for a project my buddy Kevin Ridgeway hinted about in this interview. Hope to see some familiar faces there.