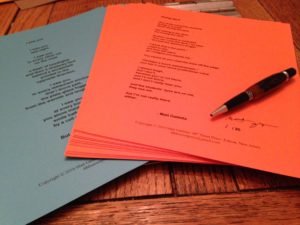 I'm happy to report that two poems of mine were just released as broadsides by 48th Street Press.
Each year, 48th Street Press puts out a small number of poetry broadsides — poems printed in limited edition on fancypants card-stock paper. I have two broadsides available: "Going dark" and "I saw you." Only twenty copies of each exist in the world.
If you're local (to me), let me know if you'd like a copy and we'll figure something out. If you're not local, you can order a set of them from me for two bucks, shipping included, via PayPal. I have signed and hand-numbered these bad boys, by the way.
Two signed, numbered poetry broadsides
by Matt Galletta
Published by 48th Street Press
$2
Other contributors to the broadside series this year include favorites of mine like Wolfgang Carstens, Lawrence Gladeview, (fellow Albany poet) Alan Catlin, Kevin Ridgeway, Ben John Smith, John Yamrus…the list goes on! You'll have to seek out these other writers yourself to get copies of theirs. Which I highly recommend you do. After you send me two bucks, that is.