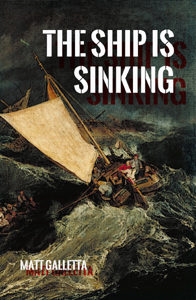 You can now read a review of The Ship is Sinking over at Headlock Press.
HP's editor, Paul Agostino, read the book and emailed me about it, then gussied up his note through the magic of editing, and now it's a review.
He talks about the "dark ride" the book takes, and he provides a couple excerpted poems. It's a really thorough, insightful read. This may be one of those times when the review is better-written than the thing it's reviewing.
In any event, I'm damn grateful for the support.