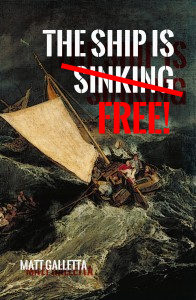 Free books, actually. Just trying to catch everybody's attention.
Copies of The Ship is Sinking are now up for grabs in a couple of giveaway contests: There are two copies available via LibraryThing, and two copies via Goodreads.
If you've been holding out on ordering the book, now's your chance to get one for the low-low price of free. You have till the end of February to request a copy from either place. Winners get selected at random by LibraryThing/Goodreads.
So…best of luck? Head here for the LibraryThing giveaway, or here for the Goodreads giveaway.