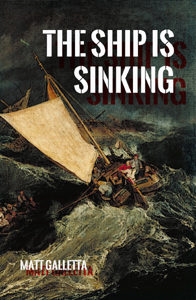 My new collection of poems, The Ship is Sinking, is coming out soon from Epic Rites Press. It's now officially available for preorder.
So…you should buy it. Maybe a couple copies. One for each room of your house. It's only nine bucks right now–you can save a dollar by ordering before it's released, which should be sometime this summer.
Some details: 54 pages. 32 poems, 19 or 20 that have never appeared anywhere, ain't-never-been-seen-before.
And sweet baby Jesus, look at that cover! That's the work of Julie Michelle Sparenberg, and I can't thank her enough. We all judge books by their covers, so I'm glad as hell Wolfgang Carstens of Epic Rites got her to do this one!
More information coming soon. But grab your copy now!